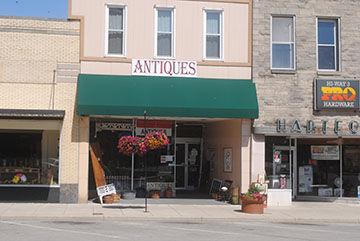 area stores to participate in East Indiana's first annual antique and boutique store | New
This weekend, October 1-2, antique dealers and boutiques from five counties will participate in the first annual Eastern Indiana Antique and Boutique Shop Hop. The event was created by the Jay County Visitor and Tourism Bureau to attract more visitors to some of eastern Indiana's smaller rural counties that have little to no tourist attractions.
In recent weeks, Jay County Visitor and Tourism Bureau Director Gyneth Augsburger has traveled to Jay, Randolph, Blackford, Wells and Adams counties, visiting numerous shops and antique shops, informing them of the event and asking them if they would like to participate.
Many participating businesses will have sales and specials available on these days. "I think I have a few specials and sales items," said Marvin Miller of the Hartford City Antique Emporium in Blackford County. "I'm also considering having a design for a free item for customers who leave their name and number," he added.
"This is the first time that I have organized an event of this nature," said Augsburger. "We hope this event will continue to grow and expand each year, attracting more visitors to the region who will let their friends know what we have to offer," she continued. "These visitors will likely visit other businesses in the area during their stay and hopefully return for future visits," she added.
Participating stores in Randolph County include "The Cozy Corner" in Lynn; "H&S Antiques" in farmland; "Diva is on the move" in Winchester; and "Thrifty Treasures", "Funes Boutique & Etc. And "The Union City Antiques Mall" in Union City.
Participating Blackford County stores include "The Hartford City Antique Emporium", "Thrifty Sounds", "Common Grounds" and "Auburn Rose Boutique", all located in Hartford City. Other cities in the region with participating businesses include Portland, Redkey, Pennville, Geneva, Bern, Decatur, Bluffton, Ossian, Markle, and Uniondale.
Many of these stores carry unusual and unique items. You never know what they might find in an antique store, you may just find that special item that you didn't even know you needed. As you move from store to store, you might even discover a new favorite business that you would never have known otherwise. This is the whole purpose of this event, to make the businesses in the area known and to attract new visitors to the area.