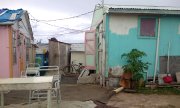 DNA Leader: Keeping the promise of slum landowners
DNA chief Branville McCartney is pressuring the government to follow through on its promise to prosecute slum landowners.
In a statement released to the media yesterday, Mr McCartney said Bahamians tend to forget important issues such as this.
However, he said, DNA has no intention of dropping the case and will continue to lobby until the government fulfills its duty to protect the sovereignty of the nation. .
"On June 13, 2013, the Minister of the Environment declared that the government had started issuing notices to slum owners and that they would continue to issue such notices," said Mr. McCartney. "Subsequently, we heard in the media that a person was given notice and is being defended by an FNM Senator who failed to identify that person and gave all the bad excuses in the world for which his client collected money from most of the illegals who were on his land.
"With the exception of the aforementioned landowner, the country has heard nothing further regarding the lawsuits against other landowners and we in ADN call on the government to inform the Bahamians of the actions taken by the government. concerning the prosecution of other landowners.
"Will the Ministry of Environmental Health apply the law of the land, especially the Building Regulations Act and the Building Regulations Rules?"
Mr McCartney said it could be taken for granted that a DNA government would deal humanely with slum eradication and the problem of illegal immigration. Unlike this administration and the old administrations, we have the political will to do this. As I have mentioned many times, when I was responsible for immigration to this country, we welcome foreigners to our shores. But you have to go through the proper channels, "he said.
"As Bahamians, we cannot go to any other country and do what these illegals are doing on our land. If the shoe was on the other foot, we would be incarcerated, detained or deported as soon as possible from those other countries. Other countries are not playing the same game as we are.
"DNA believes that the PLP government is stagnating on this issue because, as the Minister of Foreign Affairs and Immigration said earlier this year, these slum landowners are elites in our country. society and have their protectors. We wonder if these elites are known to the PLP. "