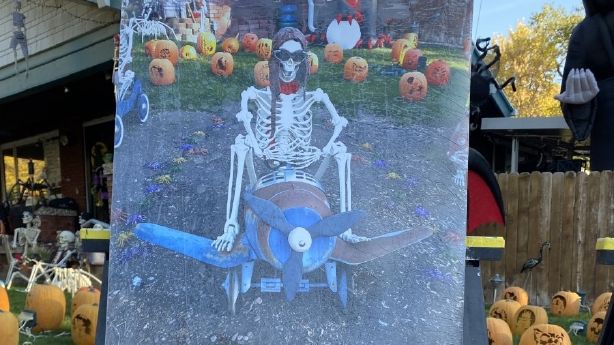 Owner hopes antique plane stolen from Halloween exhibit can be found
LeAnn Bollschweiler says an older aircraft model shown in this photo went missing earlier this month. (Carissa Hutchinson, KSL-TV)
Estimated reading time: 1-2 minutes
SALT LAKE CITY – A popular neighborhood Halloween display is missing a key feature this year and the owner is hoping someone can help him find and return it.
LeAnn Bollschweiler said an older aircraft model went missing earlier this month.
"Recently I had a very emotional time with someone who went over my fence and stole an antique plane that belonged to my brother," Bollschweiler said. "It was the last thing I had from my brother."
Bollschweiler said his brother died 2 years ago and the relic had significant sentimental value.
"It meant a lot to me," Bollschweiler said. "It broke my heart. I almost didn't decorate because I was so devastated."
The 74-year-old said she has decorated each of the past 29 years. Each year, the exhibit near Stratford Avenue and Elizabeth Street takes around 60 hours in Bollschweiler and features many skeletons, costumes, inflatables and 98 hand-carved foam pumpkins that she has worked on herself. .
"I just couldn't let someone mess this up for me, even though it was difficult," she said. "It was really tough, especially when I look over there and it's not there."
Signs now stand in the courtyard with a photo of the plane and a message.
---
It broke my heart. I almost didn't decorate I was so devastated.
–LeAnn Bollschweiler
---
"The thieves took the only thing I had left of my brother," the sign reads. "If you see it anywhere, leave a note in the cauldron."
Bollschweiler said she reported the theft to police and hoped someone could find the plane. She said a neighbor believed he spotted a gray and white 1990's Dodge pickup with a broken passenger window leaving the area with it.
She begged anyone who knew the location of the plane to return it or call the Salt Lake City Police Dispatch at 801-799-3000.
×
Pictures
More stories that might interest you