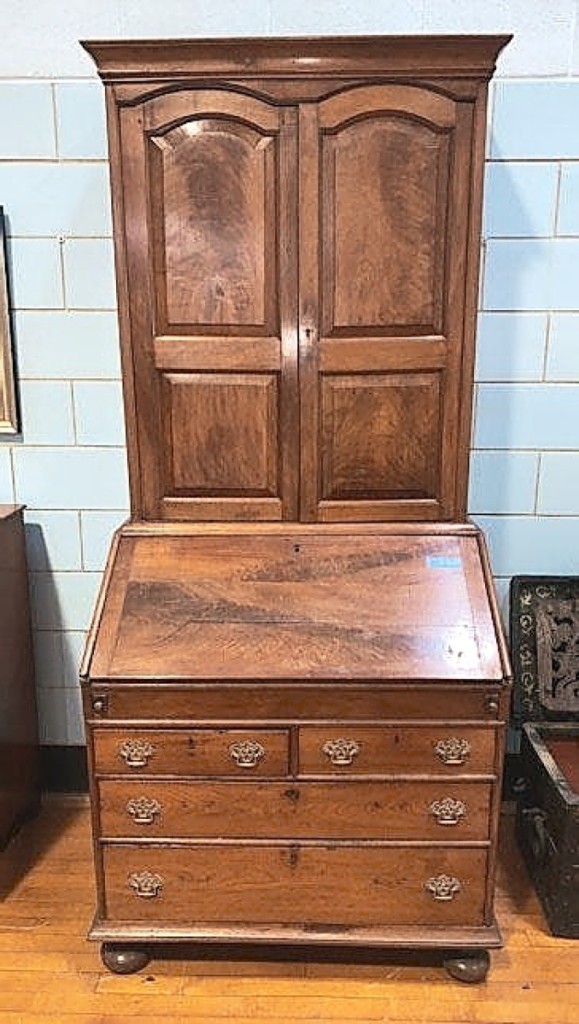 Russum offers the first part of the Trappe Creek estate
Auction action in Sudlersville, MD.
SUDLERSVILLE, MD. – The contents of Beauvoir, the Trappe Creek estate of a prominent Philadelphia family, was donated to Russum's Furniture Auctioneers on Sunday, September 26. 496 lots of the Firth family, a twentieth century branch of the Livezey family, descended from Thomas Livezey, an 18th century miller in Philadelphia. The Firths moved from Philadelphia to Beauvoir in the 1930s and the sale was the first of three auctions the company plans to conduct and has offered antiques, silver watches, gold and porcelain for export. , among others. The second auction will include the first bottles, toys and the rest of the antiques. ephemera, books, photos and cards will constitute the last sale.
The lots were not reserved and everything sold; JR Russum said the next two auctions, which he is currently cataloging and programming on, will also be offered without reservations. He noted that the sale has attracted both local and further interest, especially some of the rarer and more unusual items. He believed that the ephemeral documents to be proposed during the third session could generate some institutional interest. Bidders in the auction room competed against mail order auctions on one platform and live auctions on another; telephone auctions were not offered.
"We had a great participation. We had 150 bidders in the room, but online there were times when over 1,000 people were watching the sale, "Russum said.
A few furniture lots brought in some of the highest prices of the day, with a walnut flat-top secretary, cataloged as possibly from Virginia, earning the top lot distinction. Arched tombstone paneled doors embellished the upper section, while a stepped, divided writing interior and compressed bun legs were notable features of the lower section cataloged as "larger than normal." Russum said that during the sale, one or two people said they thought it was more likely Philadelphia, from the 1720s to the 1930s; he added that he sold to a buyer in Philadelphia, bidding in the hall, for $ 8,338.
Large sets of chairs are hard to find, so when they do arrive they usually cost a good price. A buyer from Rhode Island paid $ 6,325 for a set of 14 mahogany saber-leg dining chairs that had tablet badges and carved horizontal plaques. Russum thought the set could have been made at the end of the 19th century; he said he was happy and a little surprised at how well they were doing.
A Chippendale cherry chest chest that had quarter columns on upper and lower case was sold to a buyer in Annapolis, Md., For $ 5,175, a few auction increments in front of a Dutch cabinet in two cherry coins which amounted to $ 3,910. For $ 1,265, someone left with a Chippendale walnut semi-high dresser.
The second-highest price of the sale – $ 6,900 – was for a painted wood and iron chest cataloged as an "ancient ship's treasure chest". According to the books by John and Joseph Livezey, which Russum visited, the family owned ships which sailed to Bermuda, Jamaica and China from 1780 to 1820. He was not sure where he had been. made, but it had pierced the theme of metal islands. decoration in the interior; a buyer from the east coast of Maryland bidding in the room was the winning bidder.
An 18-karat gold and enamel snuffbox with hunting scene marked CM and engraved "John Livezey / 1861" also made $ 6,900. The box measured 3 × 1 7/8 inches and had an enamel that the catalog described as "of rare quality." Russum said it was sold to a couple of collectors who came on sale specifically for the box, from Richmond, Virginia.
"I was surprised at the quality of the license plates," said Russum. "Especially the early Philadelphia plaques."
The collection featured an unusually large number of old and vintage license plates in porcelain, metal and even leather. The leather example was an old Fairmount Park license plate and Russum learned that it was one of only six in existence. Despite competition from an online sub-bidder, it sold to a collector / dealer for $ 3,795; the buyer told Russum they were planning to keep it. A 1903 Pennsylvania porcelain plate, numbered 1006, cost $ 5,060, exactly double the amount made for a 1904 Pennsylvania plate that closed at $ 2,530.
A category equal in number to license plates was that of pocket watches, with 19 on offer. Prices ranged from $ 46 for an example of the Waterbury Series L to $ 2,875 for an 18-karat gold Patek Philippe pocket watch that had been retailed by Bailey Banks & Biddle of Philadelphia. Russum said the Patek Philippe was sold to a buyer in Australia.
"We had a lot of interest in watches. The interesting thing was the golden ratio; you don't usually find that many in a collection, "said Russum.
Silver shone brightly at the sale, led by a first silver bowl with illegible markings that fetched $ 3,795, an antique silver mug possibly from Philadelphia goldsmith Joseph Richardson who brought in $ 3,335 and a six-piece hand-chiseled sterling silver tea set that peaked at $ 2,760. Russum thought the bowl might have been made in Philadelphia; he said the porridge and the mug were sold to the same buyer.
Over two dozen boxed daguerreotypes of the Firth and Livezey families were offered in six lots, with a single half plate of a soldier in uniform at $ 2,760. It was not identified in the catalog. The other half-plate daguerreotype in the sale showed a man on a horse for $ 1,150.
The date of the second installment of the Firth family collection is still being decided but Russum thought it would take place in late October or early November and no date has yet been set for the third and final reunion.
The prices quoted include the buyer's premium as stated by the auction house. For more information, 410-708-4676 or www.russumsfurniture.hibid.com.
Top honors went to this walnut first secretary which was likely made in Philadelphia in the early 18th century and featured tombstone paneled bookcase doors, a larger-than-usual base section, and legs compressed ball. A buyer from Philadelphia, bidding in the room, pushed it to $ 8,338.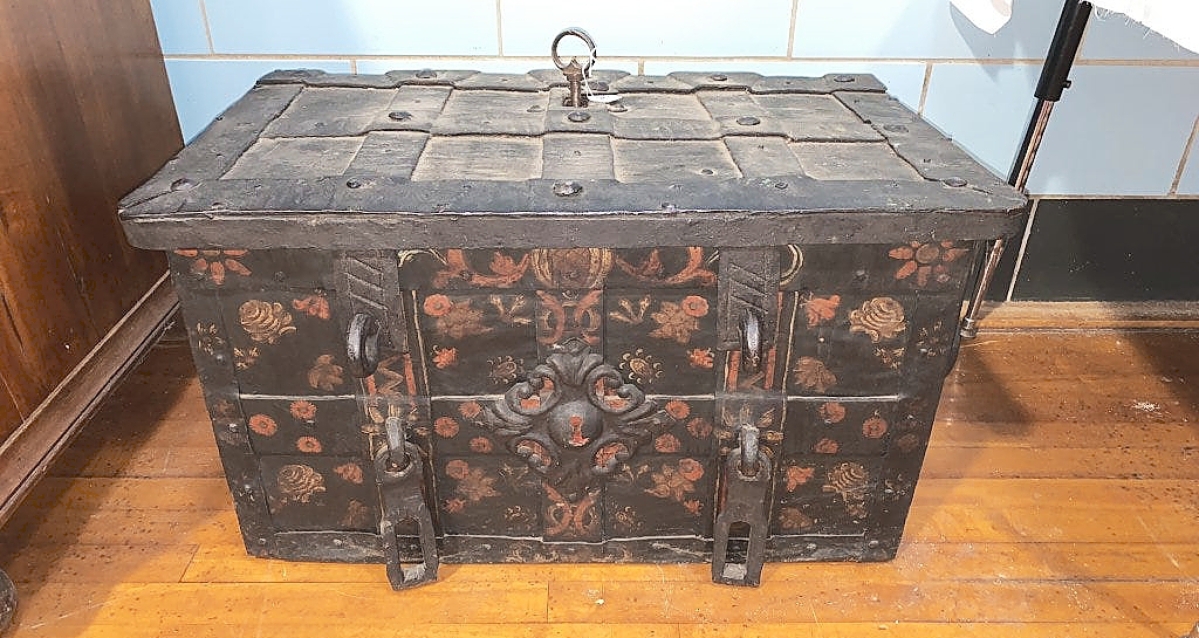 According to the earliest family records, the Livezey family was engaged in trade in the West Indies and China from around 1780 to 1820. This painted iron chest measured 18 x 30 x 17 inches and was described in the catalog as "extremely heavy." In addition to a color-painted exterior, the interior featured island-themed decor suggesting it may have originated there. JR Russum said the condition was excellent for his age; he has was sold to an in-room bidder on the east coast of Maryland for $ 6,900.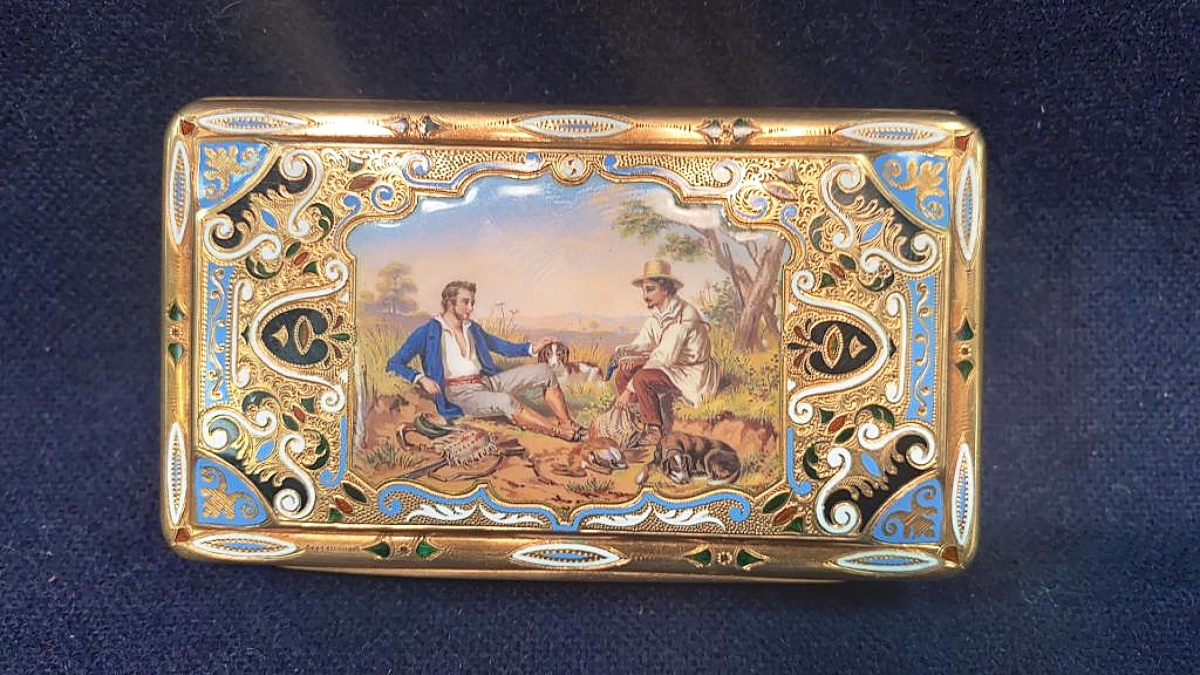 A couple of collectors from Richmond, Virginia wanted this 18k gold and enamel snuffbox so badly that they went to the auction to bid on it. It measured 3 inches by 1 inch, was engraved "John Livezey 1861" and marked CM. Fortunately, the Virginia couple didn't make the trip in vain, winning it for $ 6,900.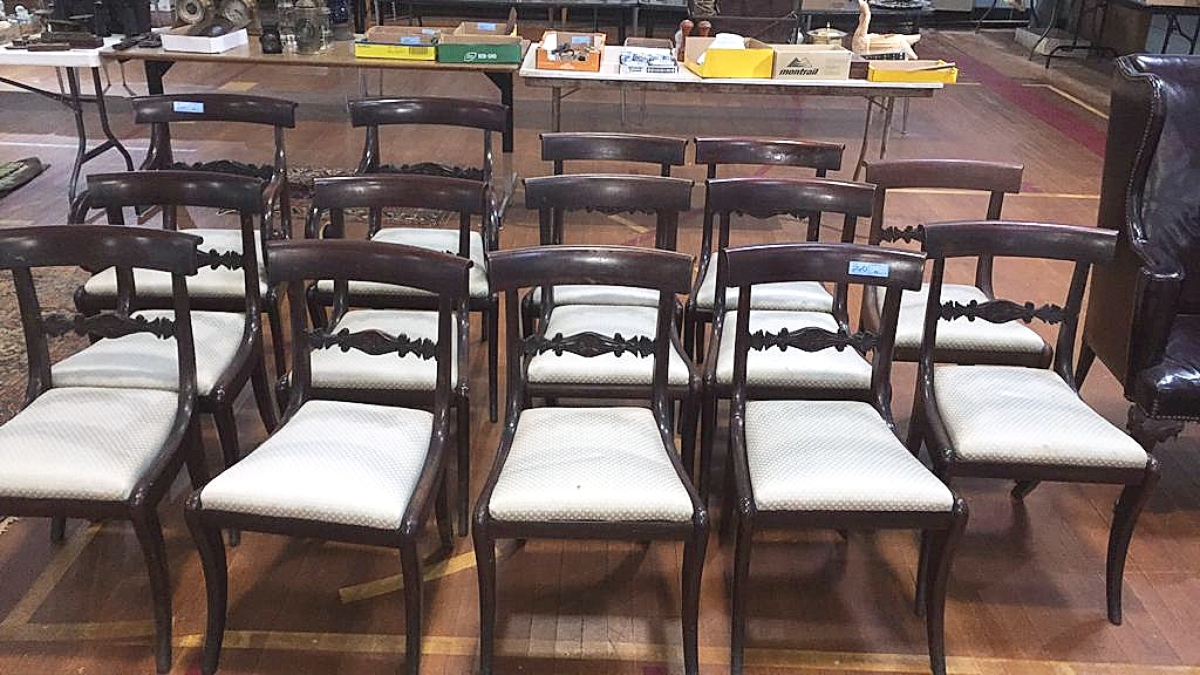 "It surprised me," JR Russum said of this set of 14 mahogany saber-leg dining chairs he thought were probably dated to the late 19th century. A buyer from Rhode Island raised the auction on the lot to $ 6,325.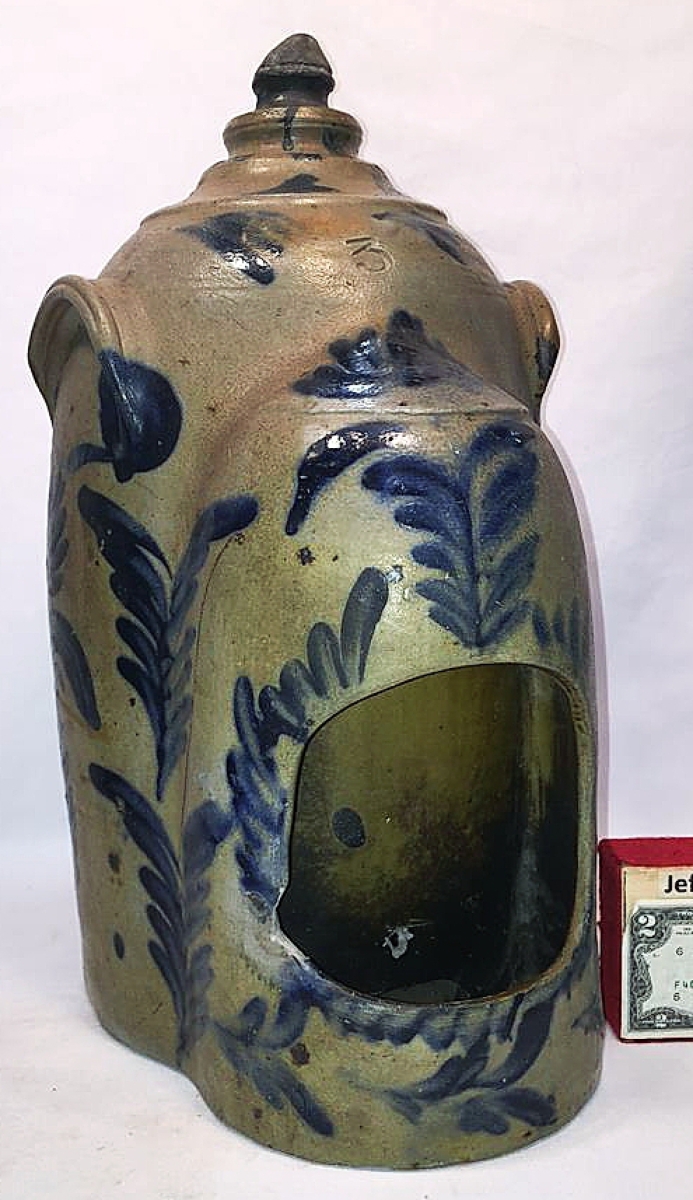 The sale included not one but two stoneware chicken drinkers. This 18½ inch tall three gallon example with extensive cobalt blue decoration had several condition issues but brought in $ 5,635; the other example was a salesperson's sampler and was just 4¾ inches tall. It had less cobalt decoration but was stamped Thomas Haig and finished at $ 2,645.
An Annapolis buyer paid $ 5,175 for this Chippendale cherry chest with quarter columns and ogee support legs.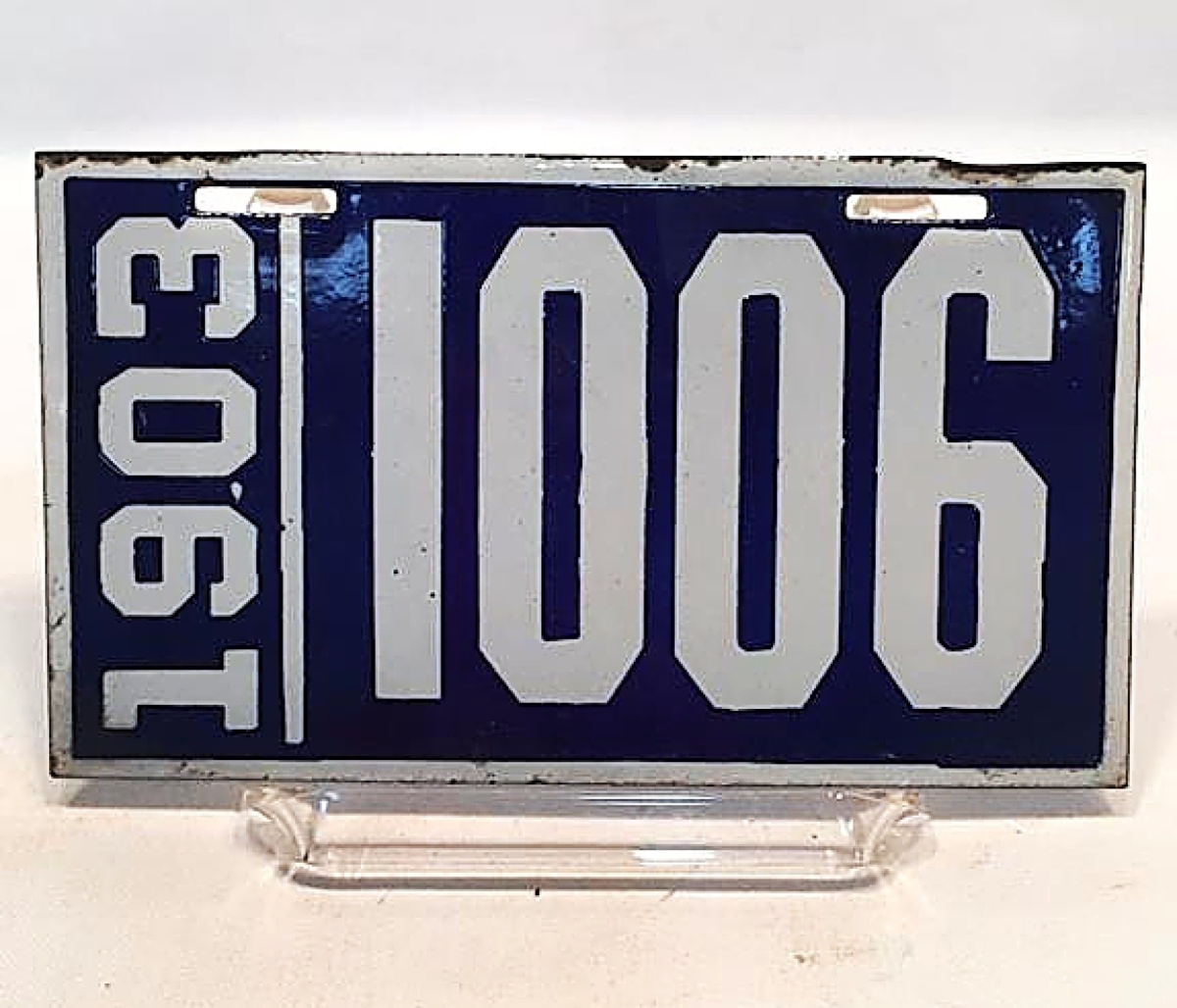 The top seller among 19 sets of license plates was the 1903 porcelain license plate from Philadelphia; the bidders took it to $ 5,060.

This antique flintlock wall hanger was described as being in "approximate condition" but still fetched $ 4,140.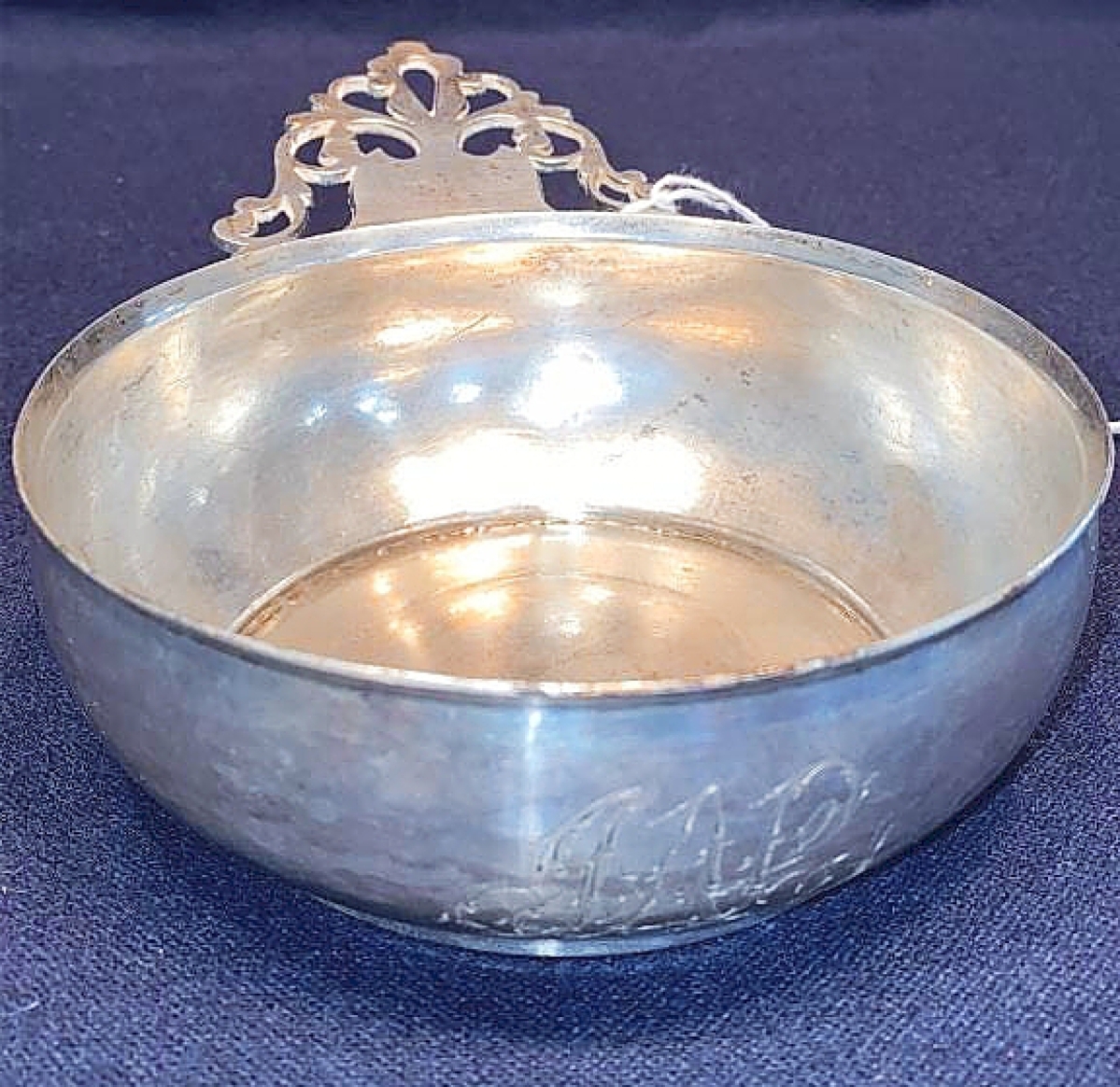 The marks on this first silver bowl were illegible. It brought in $ 3,795 from the buyer who bought a silver mug possibly from Joseph Richardson, for $ 3,335.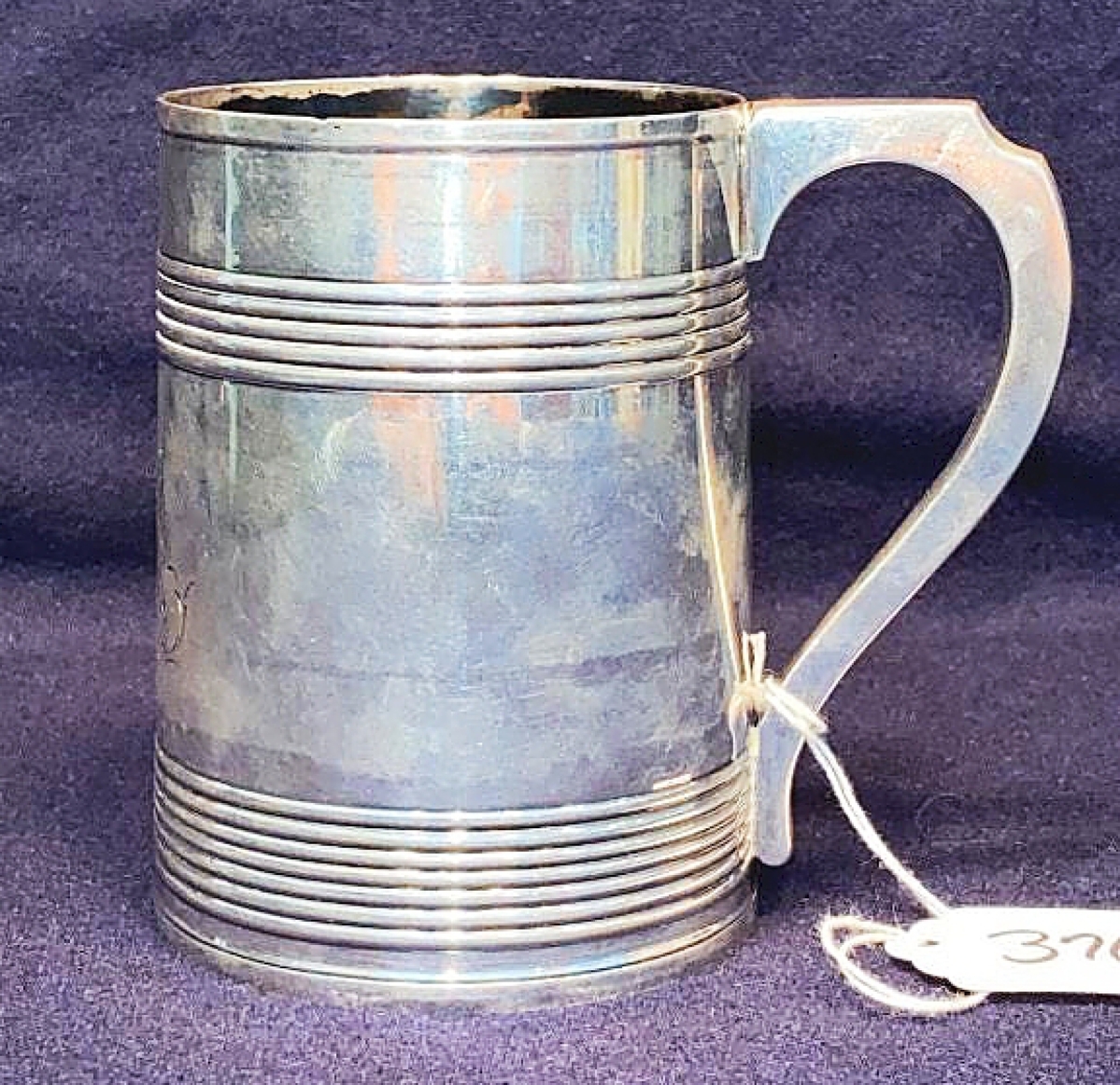 The mark on this first silver mug could have been that of Joseph Richardson. It brought in $ 3,335 from the same buyer who purchased the silver bowl for $ 3,795.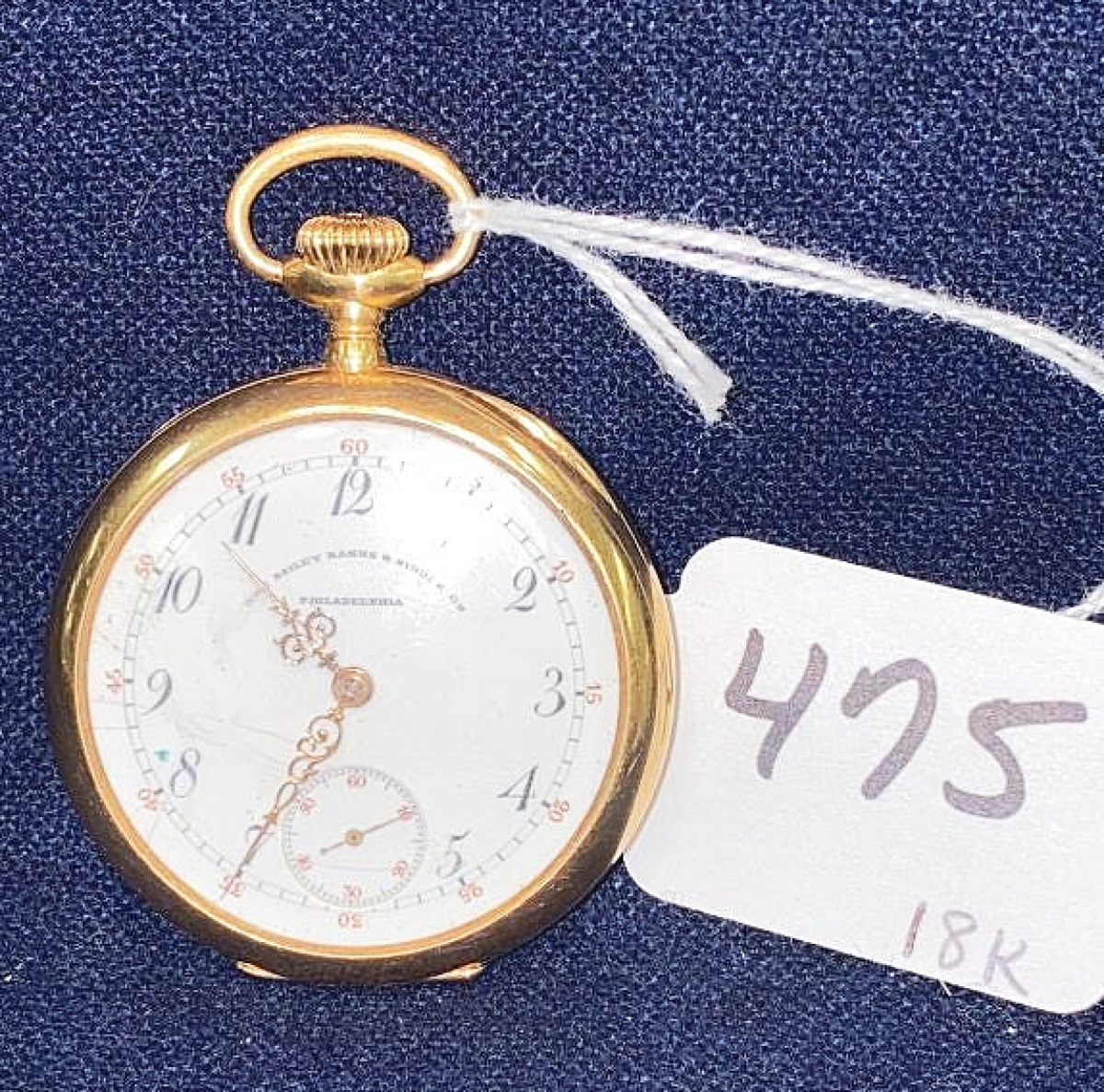 The sale offered a large collection of pocket watches, by many manufacturers. An Australian buyer paid $ 2,875 for this 18 karat gold Patek Philippe pocket watch which had been retailed by Bailey Banks & Biddle in Philadelphia.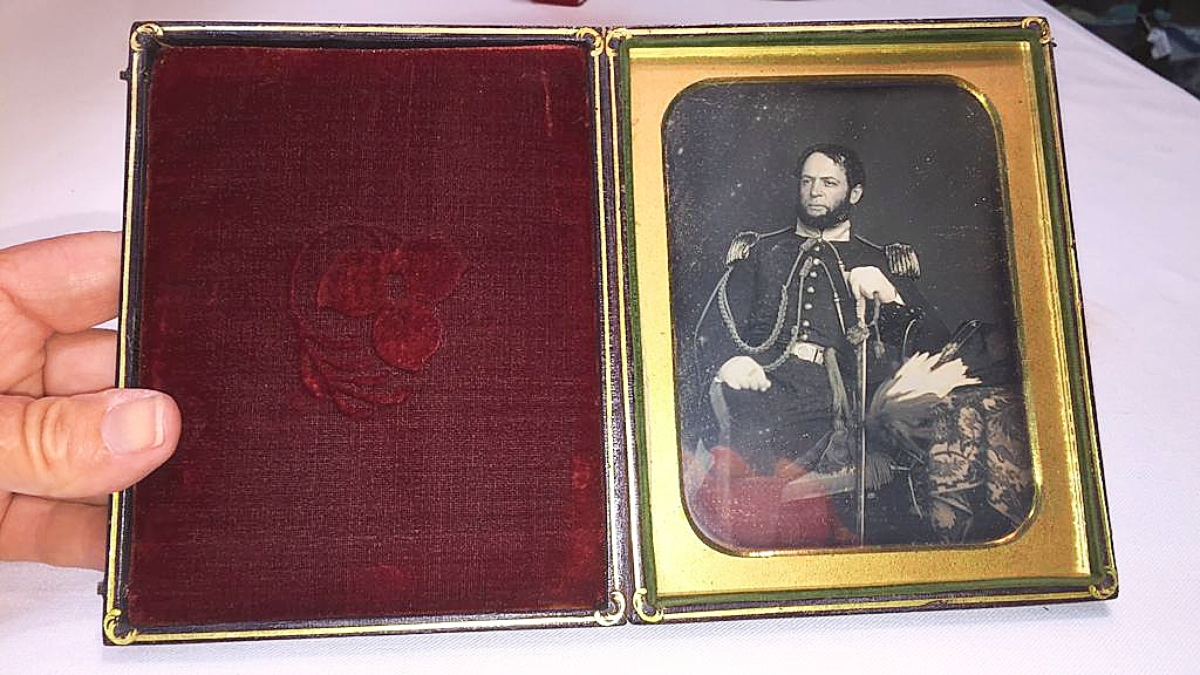 Of the nearly 30 daguerreotypes on sale, this half-plate copy of a soldier in uniform fetched $ 2,760, marking the highlight of the group.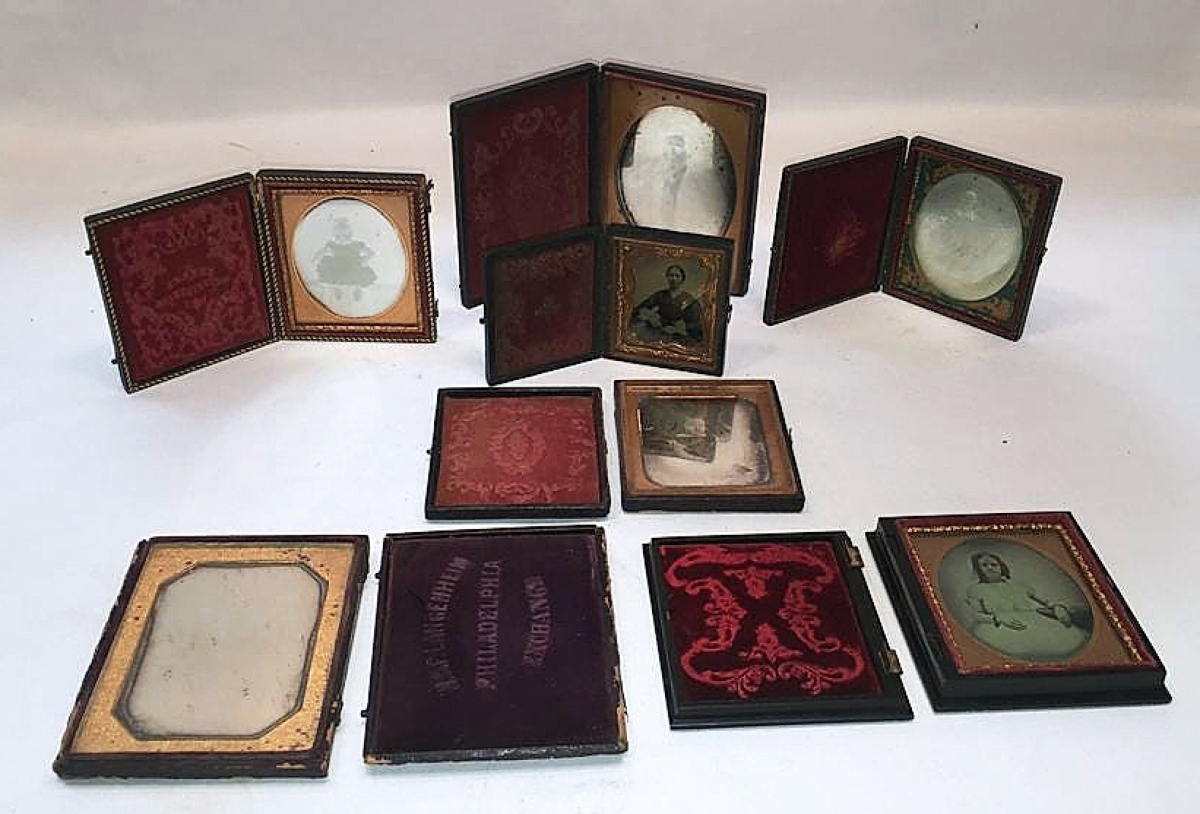 The keepers of these daguerreotypes of the Firth and Livezey family were not identified. Despite this, this group of seven finished at $ 1,840.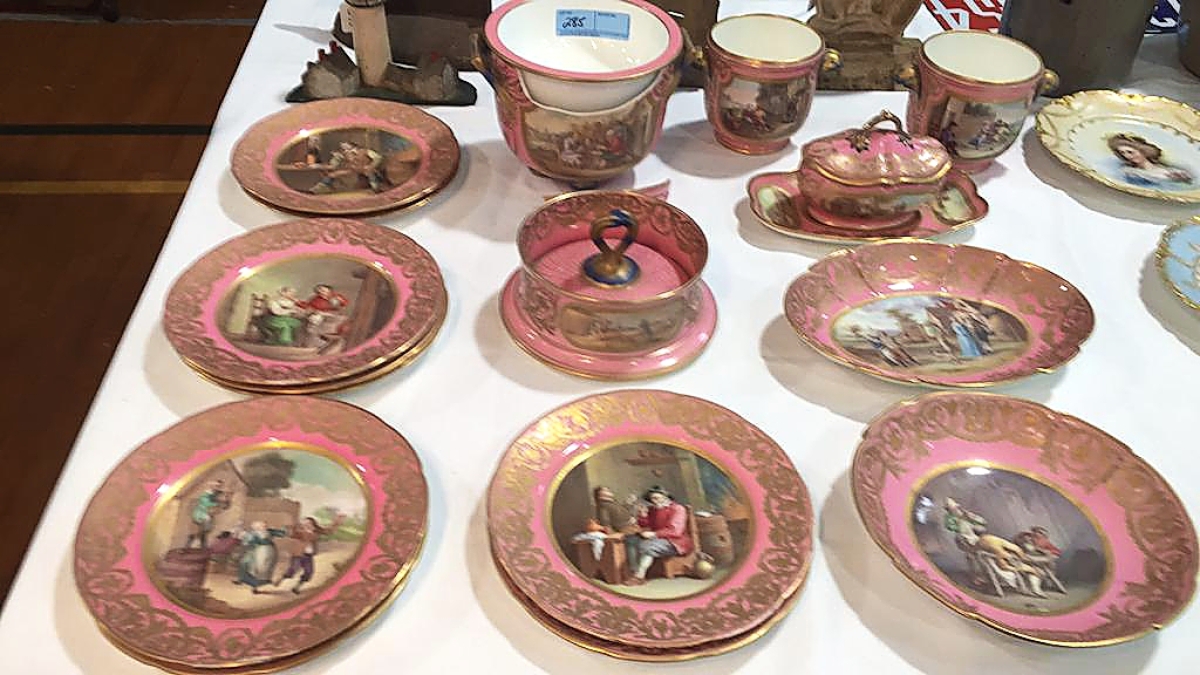 A buyer paid $ 1,495 for this 15-piece hand-painted porcelain dinnerware set marked "London".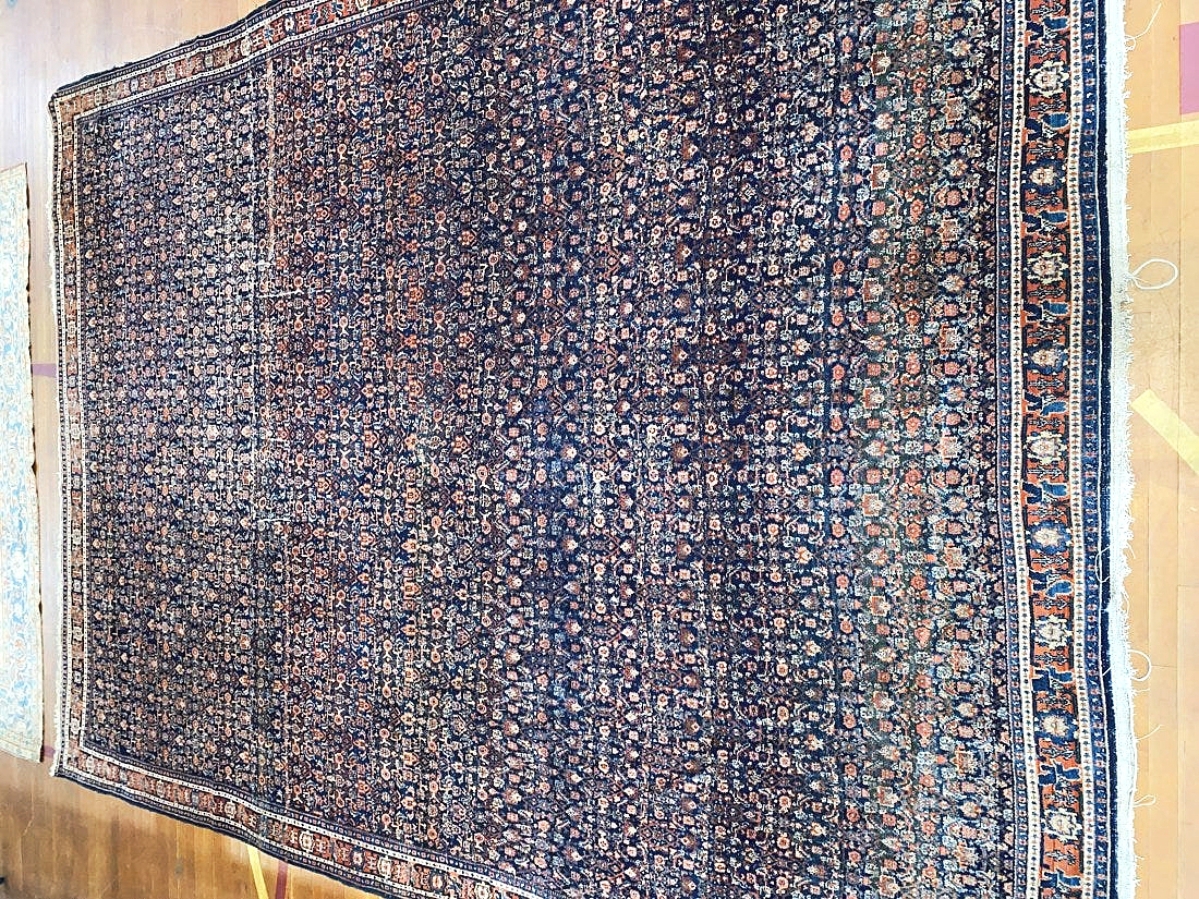 Of the eight rugs on sale, this antique oriental rug the size of a room, which measured 14 feet 3 inches by 10 feet 9 inches, had the highest result, $ 1,380.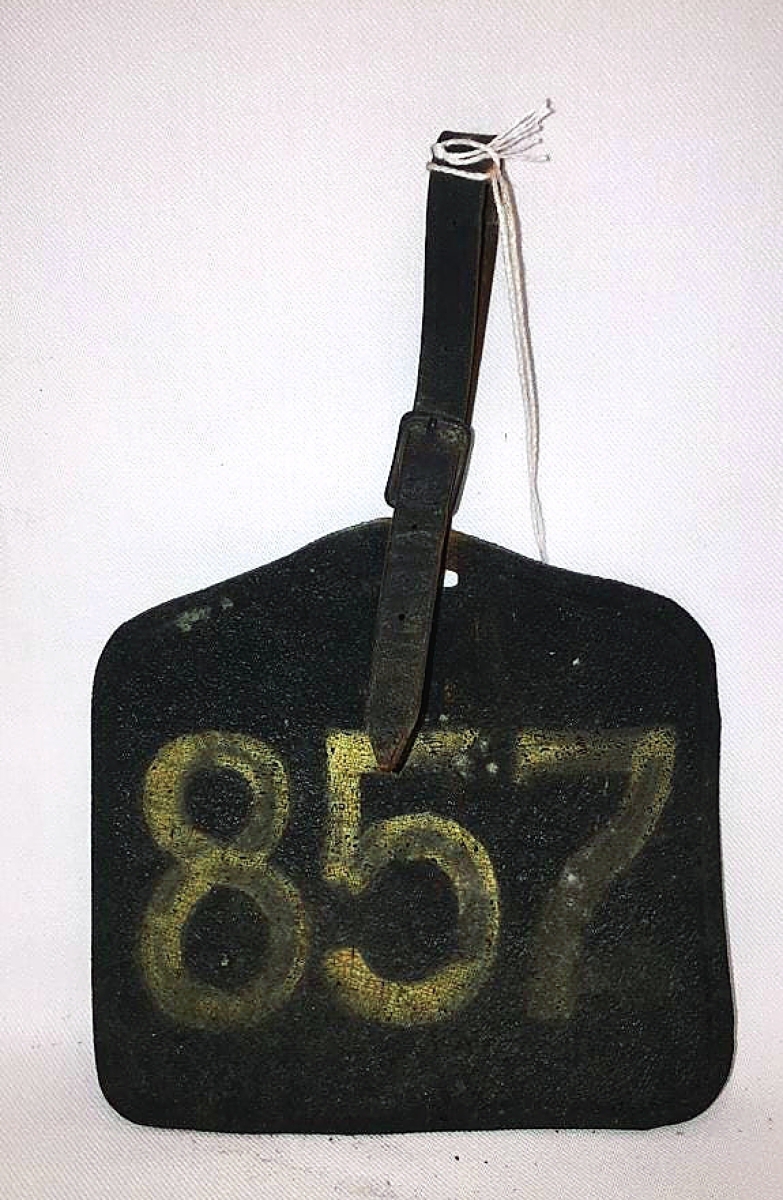 One of the biggest surprises in the sale for JR Russum was that first Fairmount Park leather license plate which he was told was one of six known to exist. A collector / dealer, who told Russum he plans to keep it, prevailed against competition online to take it for $ 3,795.